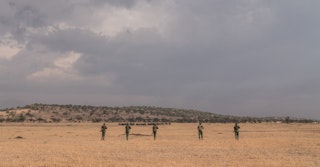 Saving The Savannah
FILMS
Saving The Savannah
Between 2007 and 2014, the African Elephant population declined by 144 000 animals, decimated by poaching.
In Tanzania, the home of the iconic Serengeti National Park, the elephant population has shrunk by 60% in five years.
Now, in response to this environmental crisis, a new approach to wildlife conservation is being pioneered: turning poachers into game scouts, deploying cutting edge technology, and uplifting local communities through education and job creation.
This is the story of the men and women who are working to bring the great elephant herds back to the African savannah.
Special thanks to Gotera, Frida, Noel, Alina and the team from the Singita Grumeti Fund.
RELEASED 2018
DURATION 30 mins
BROADCAST Worldwide on CGTN
FILMS